It is cold outside!! My house is so cold, my 4yr old ds woke up and asked if we could turn the air conditioner off. I said, it is not on and he said, then why is is so cold in here? Um, it is becoming winter outside. Off to the window he went to look for snow!
On a brighter note, my beautiful puppy Minnie is such a good puppy. The first night she slept in her pen, she played with the paper for a bit and then slept through the night. She did get up and pee in the pen. She had a great day with no accidents in the house!!
Then last night, I took her outside before bed and in the morning, her pen was dry!! I took her outside and she immediately went pee and came back inside. What a good girl!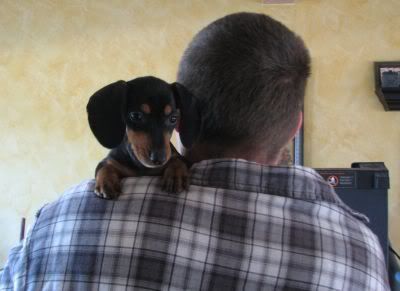 On the quilting side, I have three mini quilts to make. One is a halloween theme that will be done first to get there before Halloween. The second is a fall theme which I have started on. And the last I am not sure what it will be. Still waiting to find out.
I am going to cook "Thanksgiving dinner" later on today just because I can :-) And I have a craving for it lol. Maybe I will take picture along the way!
Happy Quilting!
Lynn